Wedding Candy Buffets are a great idea for a wedding favor! Popular for years the candy buffet is constantly evolving to suit. They are cheap and easy to set up with a little planning and effort. There are a few important things to consider when planning your rustic candy buffet...
How much candy do you need? To figure this out you'll need to know how many people have confirmed or at least a rough estimate. You can use this simple equation to figure out how much candy you'll need for your buffet.

The number of guests x 3, divided by 16 = pounds of candy required.

So that's( # guests x 3) / 16 = lbs candy
For example you have 200 guests coming... That's 200*3=600, 600/16= 37.5 lbs

You also need to figure in what demographic most of your guests are in. How many of the guests are elderly or diabetic? Are you going to have a ton of kids there? Are the guests going to be so drunk by the end of the night they won't even notice the buffet table? These are all serious questions that could make the amount of candy needed go down pretty rapidly. I would personally go by this equation if the guests are pretty evenly distributed age-wise. If its mostly older adults maybe go a little light on the candy.
What should you use to display the candy? There really is no need to go crazy with the containers the candy is placed in. A few interesting apothecary jars and the rest simple glass bowls do more than a bunch of crazy shapes. Remember the focus is on the candy. There will be enough going on with the different colors that you don't need to add much more.

Here are some ideas for an interesting layout.

Use different height jars and bowls. Having your candy displayed at different levels lets everything be seen at once. If there isn't enough height difference you can add cardboard boxes under the tablecloth as risers. If you have a really cool old suitcase, wooden crate or log slab you can use those on top of the tablecloth to add to the rustic appeal!
Use all one color or texture container if you have multicolored candy. If you have a rainbow of color going on with the candy you don't need it in the container too! Using all clear glass, milkglass, or mercury glass are all great accent pieces that won't take away from the focus. You can display a bunch of different glass pieces if all your candy is the same color however.
Labels are a great way to tell your guests what they're getting! Many websites offer great free printable patterns for labels. You can buy some from craft stores or even get some from Etsy.
Use a variety of candy and don't focus on only one color! You should never have only one color for a wedding. This goes for flowers, napkins and candy. Since you are using multiple brands and varieties you won't be able to match everything exactly to that color swatch in your hand. Try some of these tips to make your candy table look great.

Pick at least 2-3 colors to focus on. Even if your wedding is mostly coral you need an accent color to go with it. So try coral, light blue, and light yellow. Accent colors allow more variety, better matching, and more flavors! If you only choose black everything will be licorice which not many guests will be happy with.
Go for a shade like all blues, or yellows. This will make finding candy in those colors easier.
Try not to only go with one type of candy. Yes gummies and suckers are the brightest but also look for candy with matching wrappers. Offer chocolate as well as fruit flavored types.
What will your guests take their favor home in? The bag they carry their candy in can be the most personalized item on the whole table! Hand stamped paper bags, burlap drawstring bags, vellum bags with a ribbon are all great solutions! You can make them yourself or have an online vendor like me hand make each one with a personal message :) They sky is honestly the limit.

Here are some pros and cons of the more popular options:

Paper bags. These are cheap and very easy to personalize. Since they're paper they can be written on, stamped, have a fancy edge cut on them, or even be covered in glitter if that's your thing. They come in usually kraft paper or white. I hand stamp them for my customers in over 140 designs (also available in matching napkins). They can also be closed by a ribbon through a hole punched at the top, a clothes pin or nothing at all.
Vellum bags. These clear bags are cheap and easy to use. They can't easily be customized, but a label tied with a ribbon or twine works wonders.
Drawstring bags. These fabric bags are very versatile depending on which fabric they're made of. The cotton muslin type are the easiest to stamp or embroider. Burlap's rough nature only allows less detailed stamping. They add tons of rustic charm and they can be opened and closed easily!
If your wedding is taking place outdoors, in a barn, or any semi-rustic place these items would be a great addition. These items are created with touches to make them feel homespun and beautiful like burnt accents, brown paper, stamps, and touches of moss & grapevines. My shop Charleston Charms offers tons of details for your candy buffet and wedding. You can find my products for sale on
www.handmadenapkins.com
or
www.CharlestonCharms.Etsy.com
.
Grapevine Candy Buffet Jars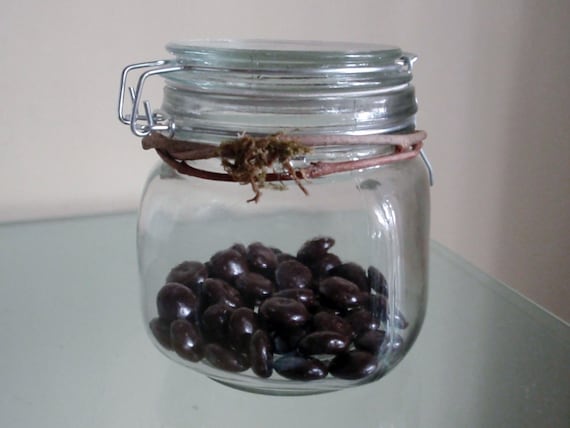 Mason Jar Candy Buffet Paper Bags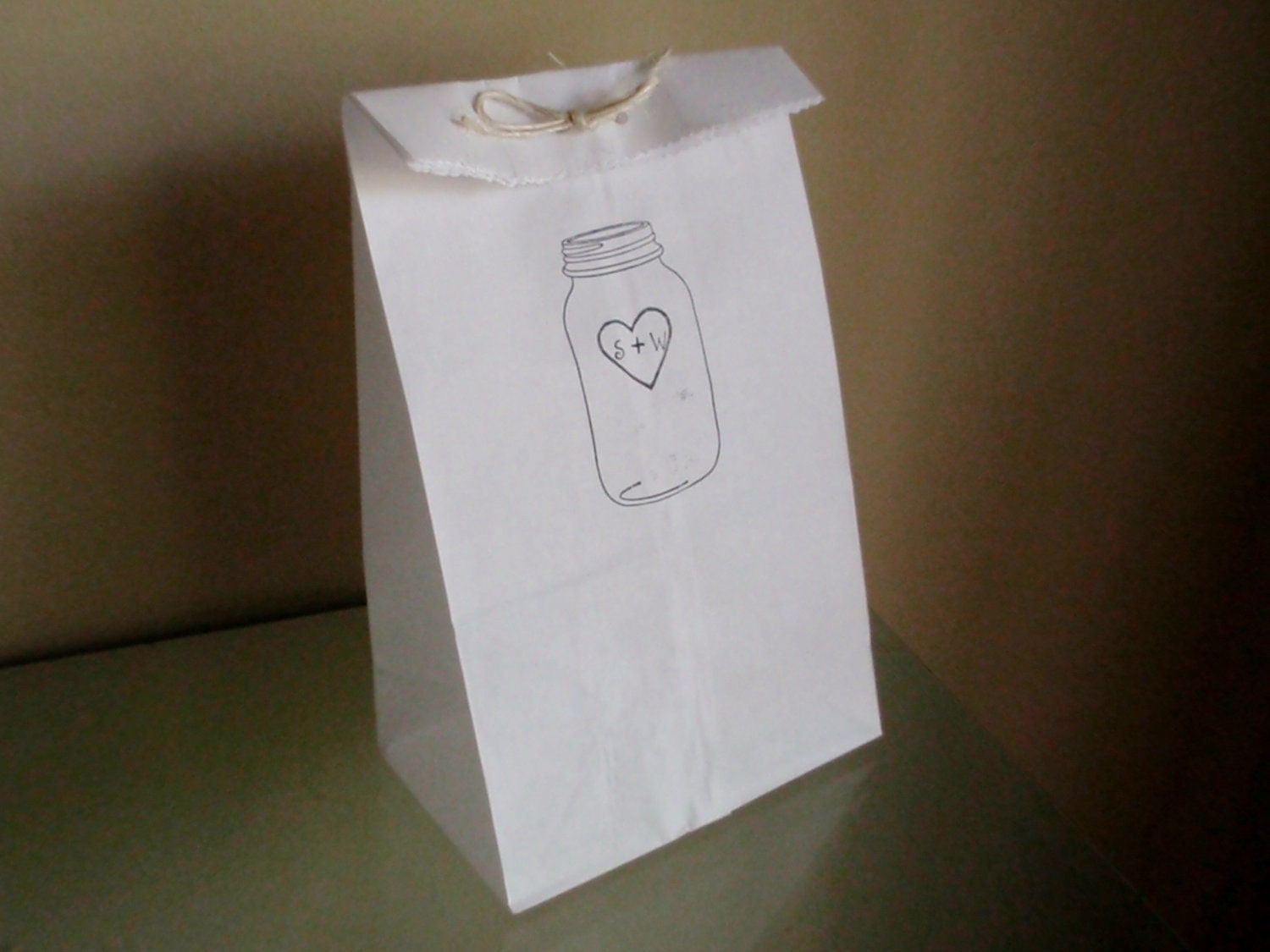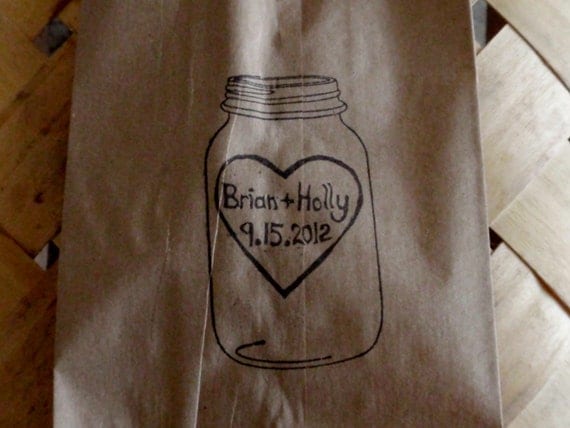 Drawstring Bags


Rustic Wooden Clothes Pins