These beautiful roses are a Southern tradition harking back to the Civil War. Women would make them out of palmetto fronds and give them to the soldier they love. He was supposed to keep the rose with him always and bring it back to his love when he came home. The roses were supposed to last as long as their love. If you've ever taken a stroll in downtown Charleston you are likely to see vendors peddling these timeless works of art. Not only are they perfect for an alternative bouquet but the little flowers are great for many other uses in your wedding.
1. Alternative Bouquets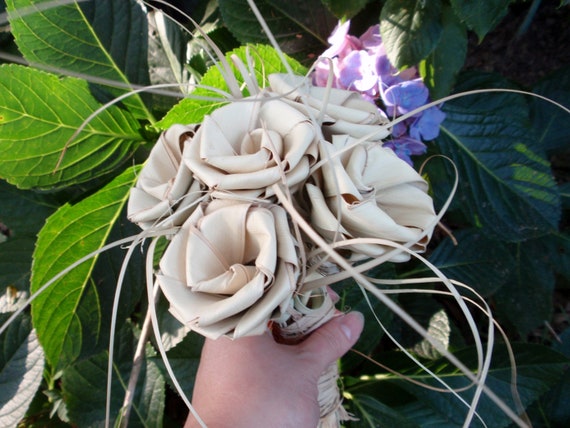 Since palm fronds won't wilt under the hot summer sun and can be made months in advance they are the perfect alternative to traditional flowers.
If you don't want all of your flowers to be the same or need a pop of color you can add them as a cool detail to a traditional bouquet. You can also try adding other dried flowers like baby's breath, tallow berries, pussy willow, or craspedia.
Using a natural or bright material to wrap the bottom of your bouquet adds interest as well. Burlap, ribbon, and raffia are all great choices!
2. Boutonnieres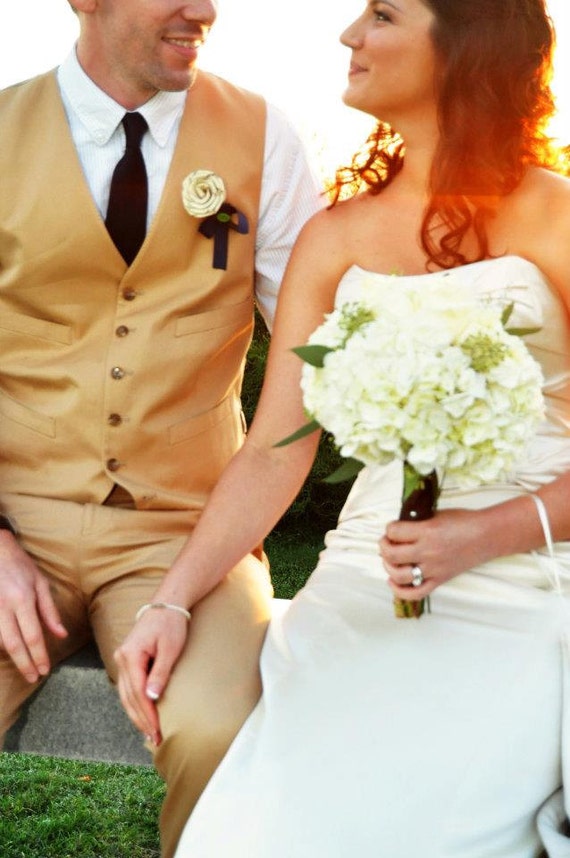 These roses aren't so girly or frilly that any man could balk at wearing one. They are neutral and can go with a tux or a seersucker suit. They can also be paired with other flowers or left alone and still look great! That's the beauty of these little palmetto roses. Your man wearing the love rose on their lapel is similar to how they would've been worn originally.
3. Hair Accessories
If you aren't into fascinators, veils, and tiaras a love rose in your hair may be a great choice! They can be pinned or clipped in a loose bun. The best part is it's durability. These flowers can take a beating without the petals falling off... if only a real rose could say the same!
4. Table Decor
You can put these babies anywhere and I mean ANYWHERE! You could hang them from the rafters if you wanted. The most obvious would be to make them into centerpieces for the tables. They would be great for decorating the pews or rows during your ceremony and since they don't require any water you can just tie them in a bow.
5. Wedding Favors
Let your guests take home a real piece of history with a palmetto rose and a Thank you note and history attached by a ribbon.
6. Wedding Programs
Attach a palmetto love rose to each program, it can double as a favor this way and helps keep paper stiff with it's long stem. Tie with raffia or twine to add the to rustic feel!
7. Placeholders
Make a rustic statement by attaching your placeholders to a palmetto love rose. It can double as a wedding favor as well. By putting the rose on the table none of your guests will miss them at the end of the reception.
8. Flower Girl Basket
If you find a particularly talented basket weaver at the Charleston Market you can buy a basket with a palmetto love rose included in it.
9. Cake Topper
If you want your cake to match your bouquet you can make a little cake topper as well! It is safe to use on on food, and won't get messed up from being moved from cold to hot like some other flowers might. It is a ton cheaper than fondant flowers as well!
10. Alternative Ring Bearer Pillow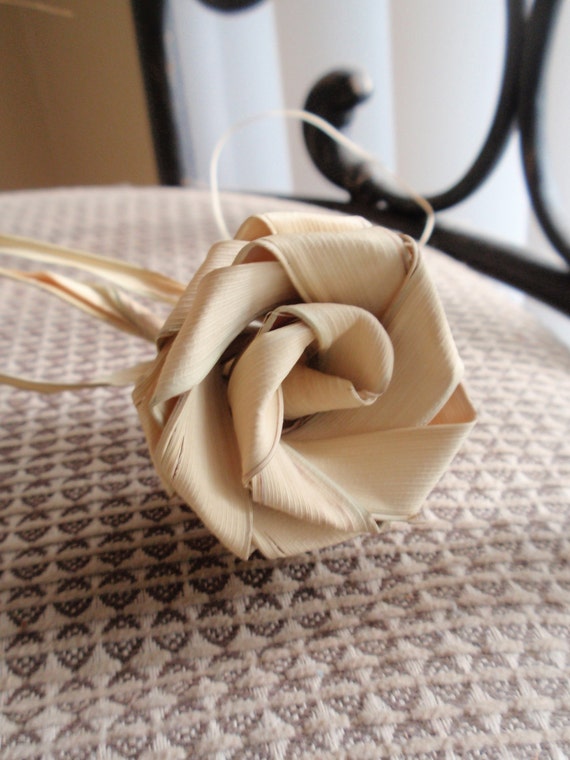 By tying the rings to one of these roses you can change the typical way the rings are presented.Your ring bearer presents each of you with a rose at the end of the aisle with a ring attached. Just make sure you tie the bows well.