I get questions and guesses from my customers all the time on how many napkins they REALLY need for their wedding reception. This is a complex question that takes more than a little guess work. Too few napkins and your guests are left high and dry. Too many napkins and you're using them in your kitchen well after the honeymoon. So how do you find the right number?
Cocktail Napkins:
Cocktail napkins are used for serving drinks, hors d'oeuvres and desserts. These are the most used napkins at a wedding so they require a little more planning than the other sizes.
If you are having a cocktail hour or having one before a sit down meal you will need 2-3 cocktail napkins per guest per hour. Don't skimp on napkins if the hors d'oeuvres will be served by waiters since they will pass one out for each plate. Once guests eat the drinking should slow at least temporarily so plan maybe 1-2 per hour during those times. If your guests will be dancing the night away you can still plan on 1-2 napkins. You can pretty much count on 1-2 napkins per hour after the main meal is served.

You can save yourself money by putting the cocktail napkins on the bar but ask the bartender not to automatically give them one unless the guest wants it. Many guests don't require a napkin for each drink especially if you are passing out koozies too.
Cocktail napkins are also great for the cake table! The cake being served with cocktail napkins will save you money! Your guests don't need a huge napkin for a cupcake or a small sliver so why give them one?
Here is an example wedding with a cocktail hour, a sit down dinner and 3 hours of mingling and dancing for 100 guests.

( cocktail hour) 2 napkins x 1 hour x 100 guests = 200 napkins
(sit down dinner) 1 napkin x 1 hour x 100 guests = 100 napkins
(mingling and dancing) 1 napkins x 3 hours x 100 guests = 300 napkins
(cake) 1 napkin x 100 guests = 100 napkins

This results in cocktail 700 napkins! That's a lot, so here are my suggestions for getting a more manageable number.

Don't hand out a napkin with each drink. This should cut back on the number of napkins in half needed for the bar if your guests come up to the bar themselves. If you have waiters you should still hand them out.
Realize that not all guests are going to want cake. You can reasonably guess only 60-75% of guests will actually eat it. You can factor that in when providing napkins at the cake table.

If you use my napkin saving tips a wedding for 100 guests goes from 700 cocktail napkins to 460!
Dinner/Luncheon Napkins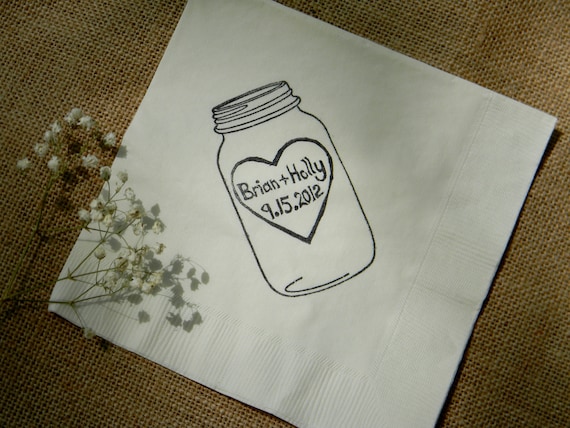 Luncheon napkins are typically served with lighter meals and cake. Dinner napkins are served with a heavy sit down dinner or buffet. If you are serving super messy foods like BBQ or lobsters at your reception you will probably need at least 2 napkins per guests. If you are having something more involved like an oyster roast or crawfish boil you will need at least 3 large napkins per person! You can use luncheon napkins if you are looking to save money. They aren't that much smaller than dinner napkins and are a reasonable size for any guests.
Hand Towels
Hand towels are typically used in the bathroom or powder room at your wedding. These can be plain or personalized as the rest of your napkins. They are much larger and expensive. If you want to dress up the bathroom they're a great way to do it. If you're looking to save money they are the first thing to skimp on. Recycled hand towels work just as well and for a fraction of the cost ;)